Modern Linear Shower Drains from Hydro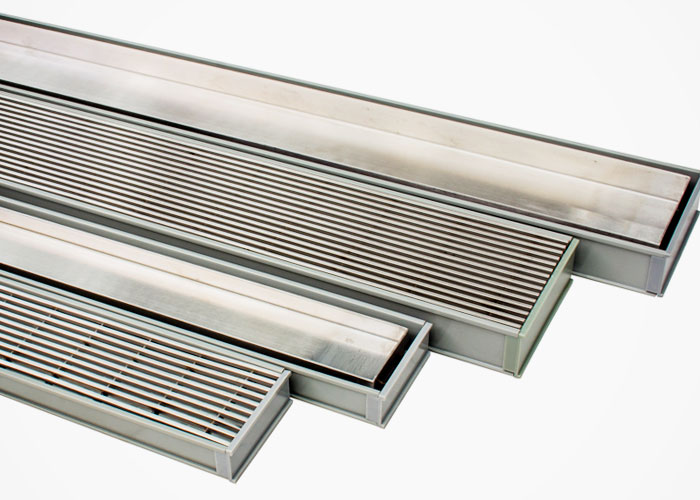 When it comes to the construction or renovation of bathrooms in both residential and commercial properties, water management industry leader, Hydro Construction Products highly recommends the use of their modern linear shower drainage products as a stylish alternative to traditional round floor drains. Based on the finest sustainable materials, Hydro drainage solutions exude world-class design and performance that will increase the value of your bathroom suite without overspending.
Modern linear shower drain benefits include;
Seamless Design
Modern linear shower drains by Hydro offer greater bathroom design possibilities. Positioned to one side, Hydro can install your modern linear shower drain with a tile insert to conceal the unsightly look of a drain and achieve a sleek, seamless finish.
Efficiency
Unlike round floor drains that are typically installed in a central position, a modern linear shower drain is sloped in one direction, ensuring a more consistent drain flow. Installed with removable grates and hair strainers, these drain solutions are also easy to clean and maintain, effectively preventing clogging issues.
Practical Installation
For quick and easy installation, Hydro supplies their modern linear shower drain in a modular kit, containing your choice of removable Heelguard or wedge wire stainless-steel grate, uPVC or stainless steel channels, and a hair filter. Installation does not require complicated estimation of angles as it is simply sloped in one direction, efficiently cutting down construction time and costs.
Long-term Durability
For quality assurance, Hydro uses only the finest materials and accessories to ensure long-term durability. Quantum linear drainage channels by Hydro are made with economical and environmentally friendly uPVC, while their Allure drains are based on high-grade 304 stainless steel. Both products comply with Australian Standards for build quality and are resistant to harmful chemicals plus corrosive agents.
Consult with Hydro before for your next bathroom project. Visit www.hydrocp.com.au today!