Heavy-Duty Polymer Concrete Drainage Channels from Hydro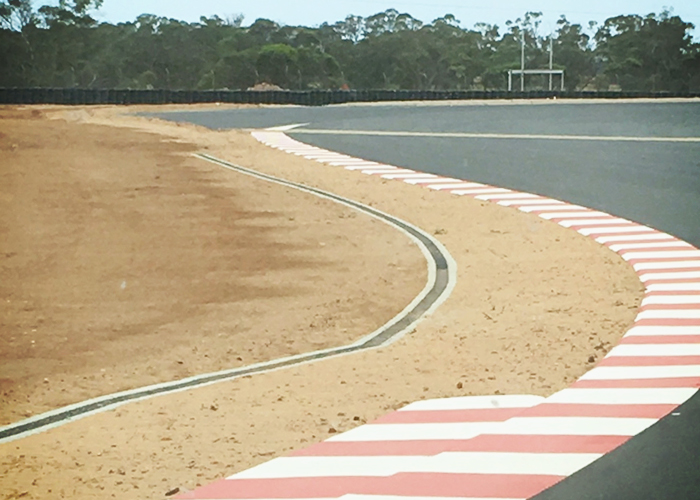 When it comes to road construction, you will never go wrong with heavy-duty polymer concrete drainage channels from Hydro Construction Products. They are made to replace typical cement concrete drainage channels, which are inefficient and environmentally degrading. Instead, polymer concrete is made from sustainable mineral products such as quartz, basalt, and granite, bonded together to form a high-performance drainage channel perfect for heavy load applications. Exceptionally light, installation is also easier and faster.
Heavy-Duty Polymer Concrete Drainage Channels for Motorsport Park
Hydro's heavy-duty polymer concrete drainage channel has been used for the construction of The Bend, also known as "Australia's ultimate motorsport park." The objective was to build a world-class racing circuit to impress all manner of motorsport enthusiasts. To avoid any potential premature pavement problems, drainage channels were among the most important factors to consider during project planning.
Developer, Peregrine Corporation, couldn't look past the advantages of Hydro's heavy-duty polymer concrete drainage channels. They installed more than 3.5km of Hydro's C3000 polymer concrete drainage channel with a cast-iron edge rail along the notorious GT circuit. The internal slopes of the drainage channel allow for a more efficient and rapid water discharge especially during a rainstorm, preventing chances of flooding and clogging. Groundwater also remains unaffected by dirt particles and chemical contamination thanks to the excellent resistance and impermeability of polymer concrete.
Hydro paired their drainage channel with ductile iron longitudinal grates and frames for bike and wheel safety. They also employed longitudinal fixation lugs on the grate and channel edge rail so the grate won't budge even if subject to massive impact from any motor discipline. Get in touch with Hydro Construction Products for current or future or road construction drainage solutions. For more information, visit www.hydrocp.com.au today.