Danlaid Contracting have the trained staff to carry out all types of waterproofing from concrete to timber!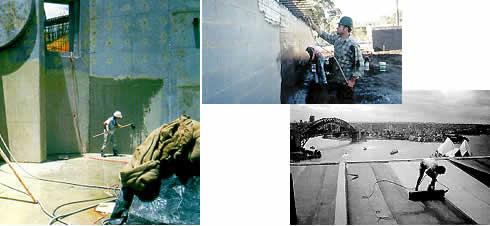 When you need waterproofing done, you need to know the company doing it is on the ball. Danlaid can recommend a solution for any water problem. Work is tested whenever possible and our work and the materials used are fully warranted.
Our company can install all types of membranes including: Torch-down bitumen, self-adhesive rubber and liquid acrylic.
LIQUID MEMBRANES
Liquid membranes come in two main types of acrylic and urethane. These membranes are usually used in showers, balconies and garden beds.
TORCH APPLIED MEMBRANES
Torch applied membranes come in various thicknesses, plain or mineral finish for UV and foot trafficable surfaces. This form of membrane is generally used on balcony roofs and tanking to underground walls. The surface is generally covered by concrete or pavers.
RUBBER SHEET MEMBRANES
There are various types of rubber membranes. The one that Danlaid Contracting uses is the Butynol system. This system is normally used when the roof will not be covered by another material such as concrete. This membrane has an excellent protection against UV damage.
CRYSTALLISED GROWTH TREATMENT
Can be applied to pressure or non-pressure faces of concrete and is ideal for problems of water seepage through porous or cracked concrete. This system is used for balconies, water storage tanks, swimming pools, concrete floor slabs, sewage treatment plants, cards, bridges and basement walls.