Superior Screens Australia leading a life of Leisure Bo - outdoor lifestyle-room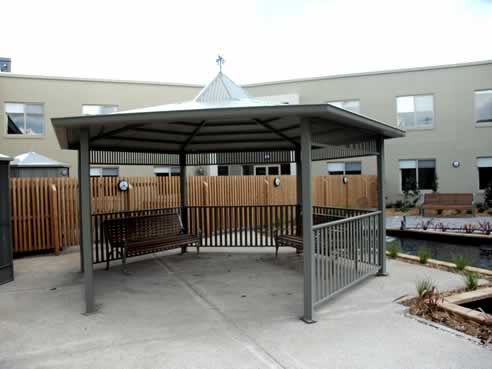 Superior Screens Australia has transformed the humble gazebo from a hexagonal shelter shed into a fully customisable outdoor entertaining area that can accommodate a wide range of living options.
With inspiration drawn from the gazebo, the 'Leisure Bo' is an outdoor lifestyle-room that can incorporate a kitchenette, hot tubs, wooden decking, shade sails and full height screening or windows.
According to Superior Steel Screen Australia's Production Manager, Ms Rita Turnour, the versatility of the Leisure Bo is so extensive that families are using them as extensions to their houses.
"Because Leisure Bos are available in a range of sizes and colours and can be built with wet areas, they're a popular alternative for people who are looking to extend their house.
"We also find that commercial properties use them to create an interesting focal point and we've seen them being used in a whole range of applications including as a bus shelter at a retirement home," she said.
In the residential setting, Ms Turnour said that the Leisure Bos were most often used as an al-fresco family living area, for entertaining and for hosting special celebratory occasions such as weddings.
The Leisure Bos are available in four sizes ranging from 3.2 metres diameter through to 6.2 metres, are made from 100% steel including a COLORBOND® steel roof and gutter and are available in a range of 20 colours.
Superior Screens Australia is Australia's leading producer of COLORBOND® architectural products that provide innovative screen, privacy, security and shade solutions to residential, commercial and industrial properties.
Superior Screens Australia has a national network of distributors - for your closest, please call 1300 766 799 or visit www.superiorscreens.com.au.