Heavy Duty Cavity Sliding Doors from CS Cavity Sliders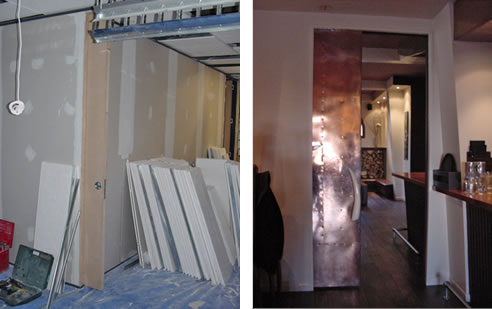 CS Ultimate
A CS Cavity Slider is a functional and efficient alternative to conventional surface sliding or hinged doors. Our cavity slider units enable a door to slide inside the wall leaving the floor and wall space on both sides clear and unobstructed.
The CS CavitySliders Ultimate is a heavy-duty cavity sliding door system designed to take thicker, higher, wider and heavier door leaves than the other products in our standard range.
The CS Ultimate cavity slider is suitable for all applications however is mainly used in architecturally designed homes and commercial fitouts.
Design Features & Options:
Removable jambs: The split jambs can be easily removed so if the door leaf ever bows, the vertical frame jambs can be scribed to match the door and refitted. This saves the costly replacement of the door, not to mention repainting and re-fitting hardware.
Increased clearance: At 80mm the Ultimate's cavity width is larger than the 50mm of standard cavities. As a result the Ultimate can accommodate thicker than usual doors - up to 68mm. We recommend you go for 55mm thick door in this unit.
The Ultimate unit has a unique 3 cell box section making the split jambs more rigid. They can be made even more rigid by inserting steel tubing into the three hollow cells of the section.
Added Stiffness: The Ultimate's track has two hollow sections on both sides that can be filled with 30mm x 10mm flat steel bars, adding significantly to the rigidity of the track.
30mm wider back stud, bottom plate and track also add to a stronger frame.
Comes in two architectural jamb details: square stopped and negative detail.
Two options in jamb materials: either timber jambs that suit door thicknesses from 10mm through to 68mm, or powder coated aluminium with wool pile seals that suit door thicknesses from 63mm to 68mm.
Fits into a 120mm stud wall.
More than one leaf may be joined to make one extra wide door.
Heavy-duty 4-wheel carriages supplied as standard.
Note: The thicker the door used, the less you have available to scribe off the jambs.
Available as single or bi-parting double units with or without the door fitted.
The CS Cavity Sliders hardware division CaviLock manufactures a range of high quality security mortice locks suitable for internal sliding door units including CS Ultimate. If you are considering hardware then it may also be worth thinking about our factory fitting service and have us fit the handle for you.