Biodegradable Urinal Blocks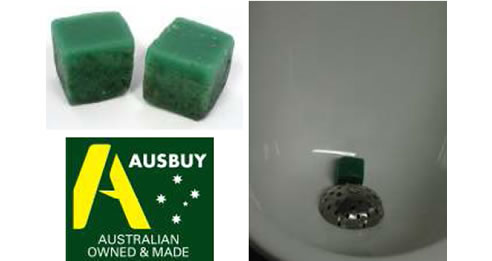 HELPING YOU SAVE WATER ONE LITTLE GREEN BLOCK AT A TIME
If you think all urinal blocks are the same, then you may want to rethink! Urinal deodourizer blocks, or also known as urinal cakes main purpose is to disinfect and deodourize the washroom and urinal. These blocks work by slowly evaporating when they are in contact with the air - they will not dissolve in water! These blocks can sometimes be the cause of the problem.
The Urinal Blocks are Australian Owned and Made and deal with the common urinal problems by eliminating unpleasant smells, reducing blockages, improving hygiene, enhancing the appearance of the washroom and reduces both operating and maintenance costs.
When the urinal is flushed, the block slowly dissolves, releasing the friendly 'good' biological bacteria which sources the uric salt and sludge build up.
Once the bacteria is released from the block, they start to multiply in the urine-rich environment and produce the important enzymes which feed on the uric salts. These enzymes change the structure of the uric salts and sludge, making them soft and wash away when you next flush or clean the urinal. More bacteria from the block starts the process again keeping the urinal and plumbing odour and blockage free.
The Urinal Blocks are safe to use, biodegradable and remove the need to use harsh chemical cleaners.
Key benefits
Australian Owned and Made
Safe to use, Environmentally Friendly
No additional hardware needed
Non-Flammable
Non-Corrosive
Phosphate Free
Biodegradable
Reduces blockages
Prevents odours
Improves hygiene
Keeps urinals looking good and smelling fresh
Eliminates the need for harsh chemical cleaners
Reduces your environmental impact
For more information on this product or any of our other innovative water saving solutions, please feel free to call or email