Domestic Glazing Award Winners from Bent & Curved Glass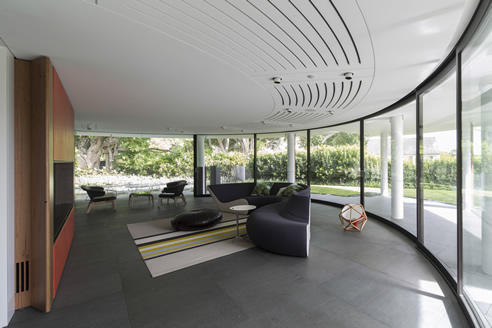 Bent and Curved Glass wins Domestic Glazing Awards.
Bent and Curved Glass Pty Ltd worked closely with Tzannes Associates Architects on this award winning residential project in Bellevue Hill, Sydney.
Extensive use of curved bi-sliding stacking doors and windows are a feature of the circular plan forms at the heart of the design.
Bent and Curved Glass Pty Ltd have accurately manufactured oversized laminated curved glass elements to complement the bespoke framing and track systems.

Fine dimensional tolerances have been achieved to ensure the smooth operation of the systems which provide the ultimate inside outside living experience.
The project has gone on to win "Best use of glass in a domestic project" at the recent NSW Glass and Glazing Association Glass Project Awards 2014.
In addition the project received a commendation in the Australian Institute of Architects NSW Chapter Awards for "Residential Architecture Houses - Alterations and Additions".
Bent and Curved Glass Pty Ltd can provide a range of locally manufactured glass solutions for residential and commercial projects throughout Australia.
Let the unique qualities of curved glass contribute to the success of your next projects.