Silent Ceiling Rangehoods from Schweigen Home Appliances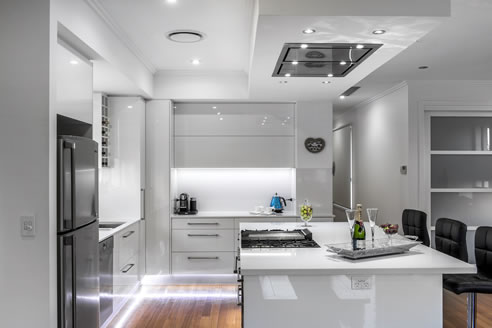 The Modern Australian Kitchen
The typical Australian home is currently in a phase of change. Gone are the days where our kitchens are separated from the heart of our homes and not given much thought. With a large percentage of modern houses as well as renovated homes now incorporating open plan kitchens, the kitchen is quickly becoming the nucleus of every home.
Dining and entertaining has always gone hand in hand, so it makes perfect sense that a kitchen / dining area should accompany the living quarters. The rise of open plan living areas means that we now have specific requirements and needs when it comes to our kitchen and its appliances. A modern kitchen should be seen and not heard. Be practical but not invasive. Stylish yet at the same time discreet. A modern kitchen then needs to combine aesthetics, functionality and subtlety all in one.
Schweigen's Silent Ceiling Rangehoods do just that. The perfect alternative to bulky canopies, these rangehoods offer the modern home style and practicality while removing the noise, fumes and odours to give you the perfect open plan living kitchen!
The revolutionary silent rangehood concept begins by having the motor removed from the canopy and placing it externally outside your home. This ensures silent extraction inside your kitchen while being able to sport powerful German made motors that can handle any cooking needs. Combine this with stylish and timeless rangehood designs and you have the ultimate modern rangehood. Giving you and your family an unobtrusive and silent open plan kitchen so you can enjoy the conversations, the laughter and the memories of the moments spent in your kitchen for years to come.