Silent Rangehoods from Schweigen Home Appliances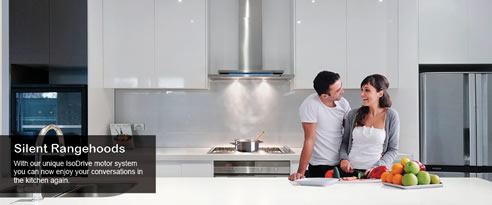 Schweigen, Brilliant by Design
Schweigen's completely silent rangehoods offer both security and a high level of quality that can be identified by their customers' confidence in their products.
These exceptional and unique products do what they say they will. They are silent, powerful and efficient, offering value through benefits that far outweigh the investment.
Schweigen's design goals are simple. First, they aim to find new and innovative ways to eliminate noise at each step of the air extraction process. Second, they ensure the rangehood delivers as much suction as any domestic application could ever need. Third, they aspire to design canopies that are both contemporary and timeless.
Schweigen rangehoods use the quietest and most powerful domestic extraction fans available. The IsoDrive fan system is a German design that is without competition in terms of its power, reliability and low noise level. The canopy is then designed to be stylish, practical and free of those small internal edges, nooks and crannies that generate sound as air rushes past. Put the two together and you have a rangehood that is highly effective in operation and brilliant by design!