Anodised Aluminium Screens for UTS from Universal Anodisers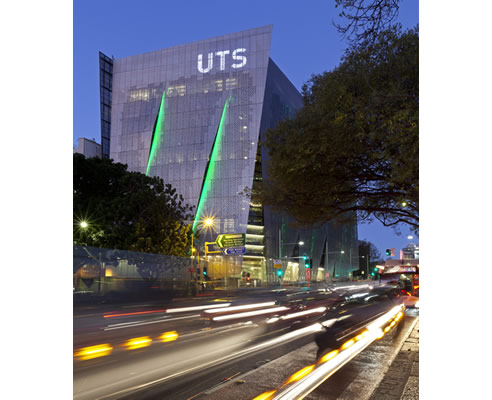 UTS SYDNEY - ANODISED INTERFERENCE
COLOUR CHOSEN - FOR BINARY SCREENS
Architect: Denton Corker Marshall
Builder: Lend Lease
Fabricator: G. James Pty Ltd
Anodiser: Universal Anodisers
A design by Denton Corker Marshall of anodised aluminium screens perforated with binary code to reveal a hidden message was the design finalist for the UTS building Broadway. The binary code look is a representative underpinning computer-programming language.
The massive façade of perforated aluminium panels strike out from the 12 storey building at various angles, leaving giant gill-like slits allowing airflow through the building. The perforated panels will provide shading to the glass underneath.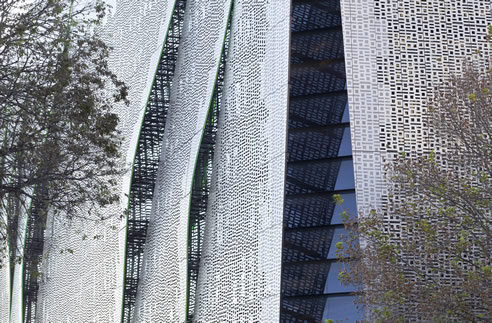 The Architects chose an 'interference colour' and so UTS Grey was developed by Universal Anodisers for the anodised finish. Interference colouring will give the screens life and lustre with perceived movement of colour, the anodising will provide longevity.
To describe 'Interference Colour' - it is an additional colouring procedure that involves modification of the pore structure. The colours are created by optical interference rather than light scattering as with the basic electro-colouring.
The colour perception of the screens is a result of an optical illusion. Interference colour is both reflective and refractive and the screen colour will appear to vary due to weather conditions, viewing angles and time of day.
The screens glow at night with embedded light-emitting diodes. The green light will bounce off the anodised surface whereas it would have been absorbed by a painted surface.
The anodised surface creates a visual life to the aluminium façade. Universal Anodisers are proud to have been the chosen anodiser on this project.