Boardroom Artwork from SOHO Galleries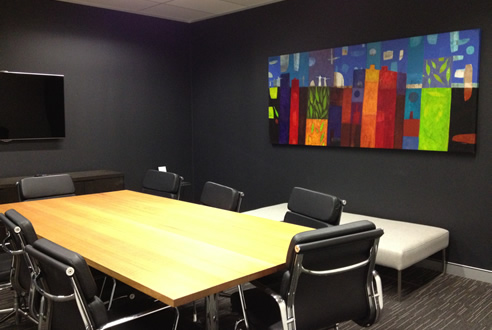 Original Artwork adds colour to your home and inspiration to your life!
Fine art really adds something 'else' to any space this wonderful piece called 'Somewhere Else' by artist Johnathan Hayed is a real unique, colorful and charming asset to this otherwise bleak office space. Delivering a much needed vibrant color scheme, and at the same time not overwhelming or dominating the room. Our services and experience will help you find the right art for your unique space that just needs that something else.
SOHO Galleries has over 20 years of exhibition history to be offer a broad selection of artwork for your home or office.
Offering a valuable consultation service for advise on size and style that may best suit the environment in question, given the brief by the client or designer. In addition you can then trial particular works in your home/office, with no obligation, to ensure the right choice (conditions apply)
Or come into the gallery to select work from our range of painters and sculptors displayed over three floors of stockrooms.