Attic Ladder Design Considerations from Attic Group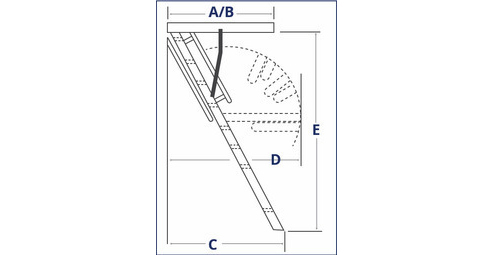 Considerations for an Attic Ladder
Before choosing an attic ladder, one must consider the following dimensions in the room and roof where the attic ladder will be installed:
Opening, A/B: Opening size will depend on type of roof space and whether it is a conventional or truss structure.
Standout, C: Distance from back of ladder to feet when open out and on floor.
Foldout, D: Distance from back of ladder to maximum fold out swing of ladder
Height, E: Height: floor to ceiling height in room where the attic ladder will be located
Easy Access to Attic Storage
The attic ladder is the perfect solution to enable immediate and safe access to the roof space for maintenance of air conditioning units, ducts and electricals.
The attic ladder also provides homeowners access to extra storage. There is up to 30% of a home's capacity lying dormant in the roof, so many homeowners are converting their roof space to attic storage areas easily accessed via an attic ladder.
The frequency of use will further refine the choice of attic ladder in terms of the gradient of climb and load capacity. If it is for infrequent, light traffic use, a steeper attic ladder with a load capacity of ~115kg is commonly chosen. For more frequent use and with a need to carry things up and down, the gradient of the attic ladder should be gentler (easier climb), and with a higher load capacity, over 200kg.
For instant, safe and easy access, replace the ceiling hatch of old and new homes with a good quality, permanent, attic ladder.