Ultra Low Glare Electric Infrared Radiant Heater from Celmec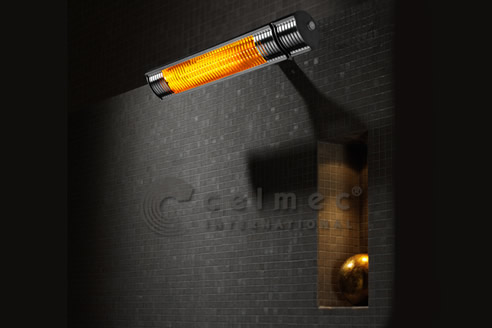 New Heatray IRH-E Ultra Low Glare
We are excited to announce one of our most recent technological developments in the Heatray product range. At Celmec we strive to continually push the boundaries on performance and aesthetics, which has lead to the development of the new and advanced Ultra Low Glare, Electric Infrared Radiant Heater (IRH-E ULG). The units are now available in our new silver or black anodised aluminium finish, in 1500W, 2000W or 2400W models alongside numerous other technical advancements referenced below:
Celmec's new IRH-E ULG unit utilizes Ultra Low Glare infrared technology, which reduces the visible red light, whilst maintaining the heat output and rapid warm up associated with infrared heating. A highly efficient stainless steel internal reflector further enhances performance, enabling a coverage of up to eight square meters in protected outdoor areas.
In addition to aesthetics and high performance, Celmec has also released an optional wireless remote control unit. Apart from having six heat settings, the remote control has a soft start function and it will automatically switch to the last chosen heat setting. When switched off, the heater will remain in standby mode with an indicator light confirming its status.
The new IRH-E ULG Ultra Low Glare design is highly serviceable allowing easy lamp replacement, whilst still maintaining the unit's IP65 rating. The unit is of commercial grade, suitable for indoor and outdoor undercover settings, to provide comfort and enable efficient use of valuable space.