Squareline Commercial Washroom Cubicles by Flush Partitions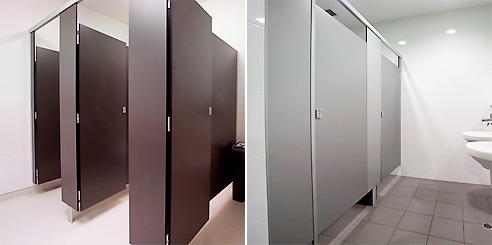 Squareline commercial washroom cubicles are the most popular and versatile partition system by Flush Partitions Australia. Great for high traffic areas, the Squareline system is perfect for schools, offices, gymnasiums, nightclubs, hospitals, medical centres, factories, and warehouses. Offering great value for money, Squareline partitions are strong and durable, ideal for tough environments. It can be configured without compromising on interior design and suit a large range of installation scenarios.
Flush Partitions' Squareline is typically 900mm wide by 1,500mm deep and can be extended to 1,800mm for showers. Set above the floor level at 200mm on an aluminium legs, and is overhead-braced to provide extra strenght. All aluminium is anodised but can be powder coated to suit colour requirements or décor. The Squareline partition system is so flexible it can be altered to suit any custom specifications, manufactured to suit non-standard sizes in accordance with design or building requirements.