Decorative Timber Batten and Panel Solution STECCAWOOD by Polytec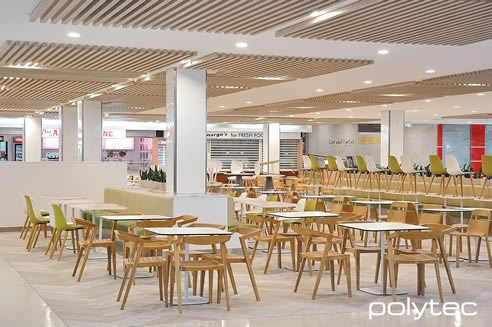 STECCAWOOD provides a warm and rich texture appearance for a wide variety of panelling, ideal for wall and ceiling applications in either a vertical or horizontal set-out, STECCAWOOD battens create strong directional lines that will add a striking feature to any internal commercial space.
Made from E-Zero MDF and wrapped in decorative overlay STECCAWOOD battens impart the realism, warmth and character of timber, providing a durable and cost effective solution.
Available in 8 colours and 6 thicknesses (17x38mm 17x65mm 31x31mm 31x65mm 50x70mm 50x100mm all in a 3600mm length), STECCAWOOD is a cost effective decorative batten solution perfect for a wide range of applications such as walls, ceilings, screening and commercial fit outs. A finished product, ready to fabricate and assemble with no extra manufacturing costs, along with Group 3 fire rating and manufactured from COC, PEFC, AFS and Green Tag Level A certified ME E-Zero MDF.