CNC Tour for Federal Ministers at Allplastics Engineering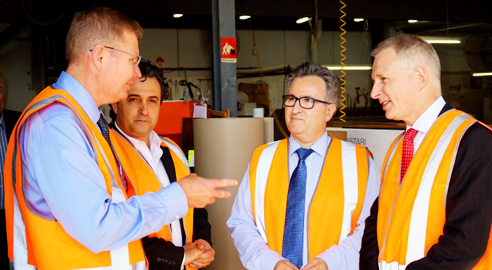 On 5 April 2018, two government ministers visited the showroom and production facilities of Allplastics Engineering Pty Ltd, in Chatswood. The Hon Paul Fletcher, Minister for Urban Structure and Cities and the Hon Craig Laundy, Minister for Small and Family Business, the Workplace and Deregulation, discussed various topics concerning manufacturing and SME's with Managing Director, Vic Kalloghlian and Operations Director, Raffi Kalloghlian. They were accompanied by Mr Stig Falster, President of Chatswood Chamber of Commerce.
Minister Fletcher commented "we were very impressed by the work you do and the success of your business, especially in recovering from a fire in the 90's that impacted your business."
After touring the modern showroom of Allplastics and the production facilities offering CNC routing and CNC machining facilities, Minister Laundy added "it's inspiring to see a family business that manufactures and markets niche products for a diverse range of industries despite many challenges." He added, "your company demonstrates a clear vision for adapting to the new business environment of the 21st century while maintaining some of the traditional values of a family business."