Unbreakable Polycarbonate Display Cases from Allplastics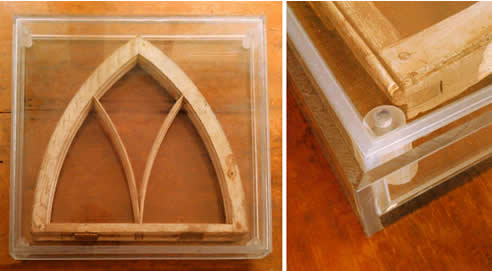 Preserving History in Safe Polycarbonate
The preservation of historical documents, objects and artifacts is a challenging task for museums, schools and churches that wish to display such items in public areas and in the open.
Traditional methods of displaying objects in glass has given way to the safer and more economical option of acrylic. However; acrylic can be easily cracked in public areas due to accidents or vandalism.
The Corunna Wesleyan Methodist Church in the picturesque south coast of New South Wales approached Allplastics Engineering with the task of fabricating a sealed, clear showcase from unbreakable polycarbonate. The purpose of the showcase is to display antique church window frames dating back to 1914. Custom machined polycarbonate spacers were used to join the back and front panels whilst providing rigidity on the corners.
Polycarbonate has 250 times the strength of glass.
Mr Harry Bate, who handled the project commented "Allplastics were incredibly cooperative in fabricating a very unique solution for a challenging project for our church. We thank them for their contribution to the success of this project."
Allplastics has been fabricating acrylics and polycarbonates for more than 30 years. Applications include museum showcases, aquarium panels, exhibition stands, water columns, safety barriers, public art pieces and much more.