VectorGrid Mesh Conduction Layer for EFVM Testing from ILD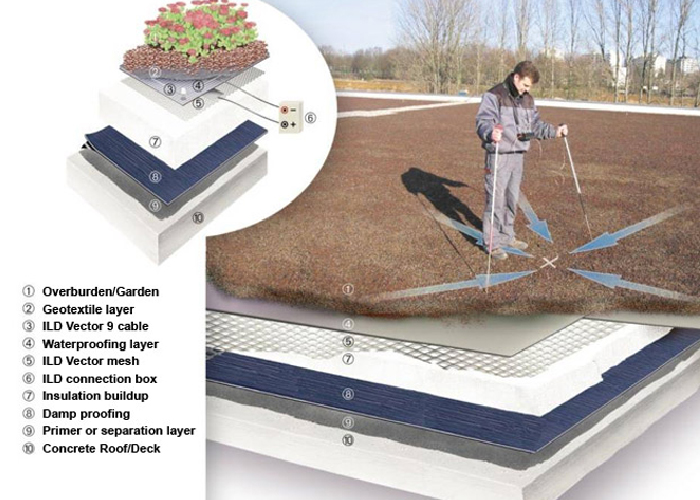 International Leak Detection's (ILD's) VectorGrid Mesh Conduction Layer plays a significant role in low-voltage Electric Field Vector Mapping, or EFVM, the latest leak detection solution in Australia that makes flood testing of waterproofing membranes a thing of the past.
For successful EFVM testing, the membrane being tested must be positioned over a conductive and earthed substrate. Reinforced concrete buildings or structures are easily tested as they are earthed through their reinforcing steel. ILD VectorGrid is enforced in the presence of non-conductive light construction materials, with the conduction layer installed atop the substrate prior to the membrane being placed. In case a roof system uses thermal or acoustic insulation, VectorGrid is laid directly beneath the membrane to allow for seamless EFVM testing.
A roof system makeup incorporating ILD VectorGrid would read;
Overburden/Garden
Geotextile layer
ILD Vector 9 cable
Waterproofing layer
ILD VectorGrid
ILD connection box
Insulation buildup
Damp proofing
Primer or separation layer
Concrete roof/deck
In cases of lightweight roof design with no overburden, the makeup would only require ILD Vector 9 cable on the surface, waterproofing layer, ILD VectorGrid, and plywood/lightweight roof deck.
Contact ILD or visit www.ild-australia.com.au for more information.