Residential Public Area Art for Lachlan's Line with Axolotl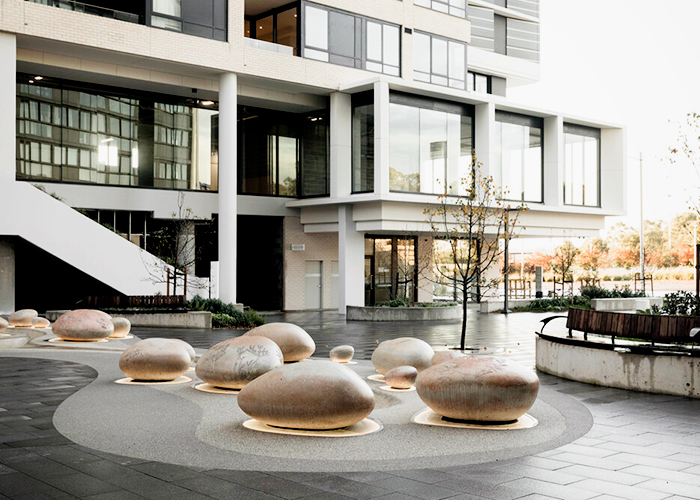 Skipping Stones - Lachlan's Line
Long time Axolotl collaborator and friend, artist Jade Oakley recently completed this playful site specific installation titled Skipping Stones, in collaboration with Creative Road and Axolotl Art Projects (AAP). Spanning the forecourt of a residential development at Lachlan's Line in Sydney, the 19 metre long installation consists of 22 hand cast concrete stones scattered around a reflective creek. A custom designed metal element in the centre bridges across the creek, which trickles between 2 bespoke metal grates.
Under Jade's direction, ochre was hand mixed into the cement creating a blending of colour on the surface of the stones. Jade's hand drawn sketches, depicting native fauna found in nearby Lane Cove National Park, were carved by Axolotl into the surface of each of the cast concrete stones. The oversized pebbles, varying in size from 300mm long to 1500mm long, each sit on a 'halo' of Axolotl formed glass precision-cut panels, illuminated by subterranean lighting designed and programmed to glow intermittently in a rhythm inspired by the first large raindrops of a summer storm.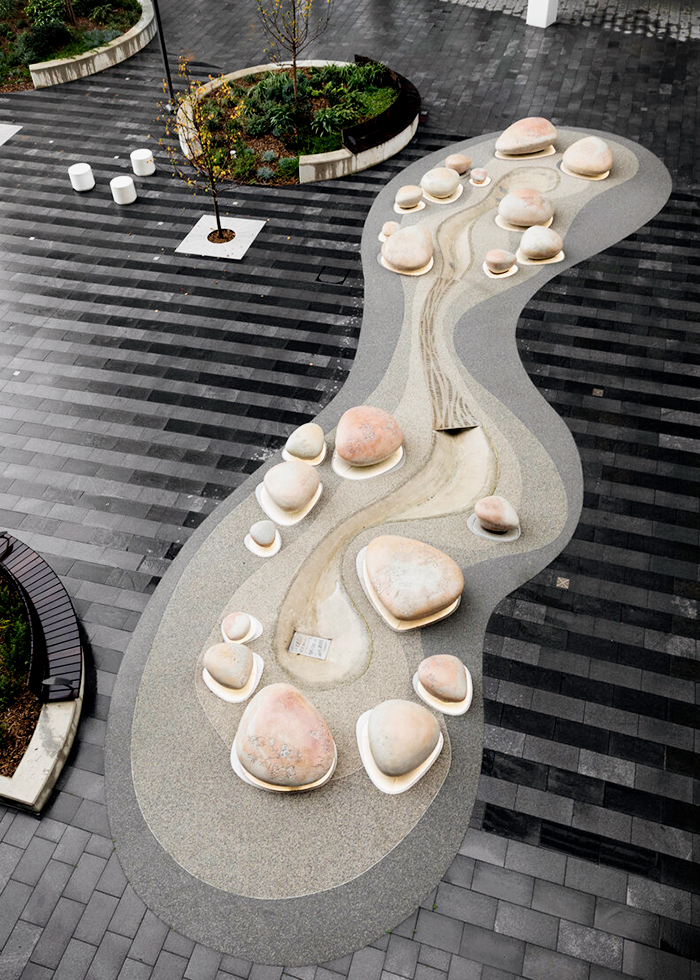 AAP was engaged by Jade Oakley and Creative Road to assist with various aspects of the design and documentation from the overall layout down to the detail of the metal bridge element ensuring compliance with local government regulation. Our team was also tasked with producing a 1:1 prototype of the sculpture. The prototype incorporated and tested the install methodology of all of the elements that make up Skipping Stones, including custom formed glass, a custom carved concrete pebble, LED lighting, extruded framing and Stoneset.
In the artist's words; "There is a strong tactile quality to Skipping Stones. The concrete is lovingly polished, so that it is smooth and delicious to touch, a joy to sit on when warmed by the sun. The arrangement of stones encourages interaction with the public; children use them as stepping stones, jumping from one to the next. People sit on them, and use the sculpture as a gathering place."
Skipping Stones evokes memories of water, play and interaction. The work encourages interaction especially for children and creates strong ties with the local landscape.
Photos by Silversalt Photography.