Green Wall & Sandstone Paving for Caulfield Residence by KHD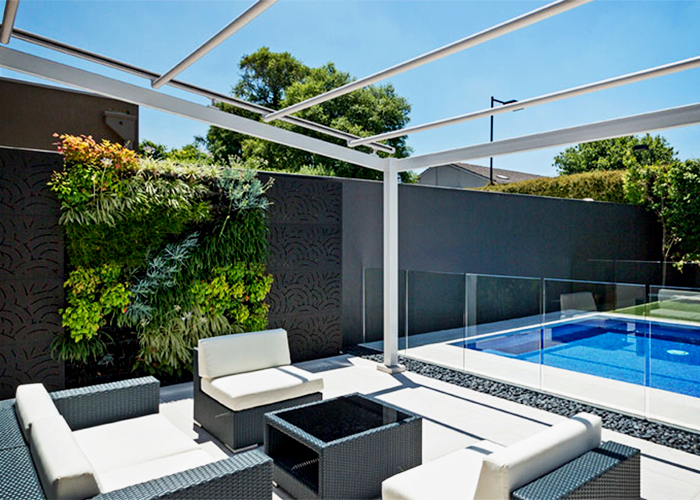 KHD are the masterminds behind this aesthetically pleasing green wall and sandstone paved exterior living area of this Caulfield home. Construction was led by designer and contractor, Troy Danns. They employed an Elmich Versiwall vertical garden system and KHD's Snow-White Sandstone to create this stunning focal point while creatively hiding the pool equipment behind.
The Elmich Versiwall from KHD was ideal in this case because of its design flexibility and ease of removal for maintenance or amendment. Troy Danns utilised the 6-point anchoring system, installing it on alternate mounting frames. The frame system chosen was the 4mm galvanised mesh with 75 x 50mm grid. The green wall system features a fully automated irrigation system for efficiency, and baffle plates. This enables streamlined water management with no risk of spills.
Together with KHD's sleek sandstone pavers, the homeowners achieved a modern, artistic pool, living, and garden area featuring a beautiful green wall that seamlessly blends with the clean, crisp lines of the bespoke design. To learn more about Versiwall green walls and Snow-White Sandstone pavers, contact KHD or visit www.khdlandscapesolutions.com.au today.