Curved Acoustic Performance Glazing from Bent & Curved Glass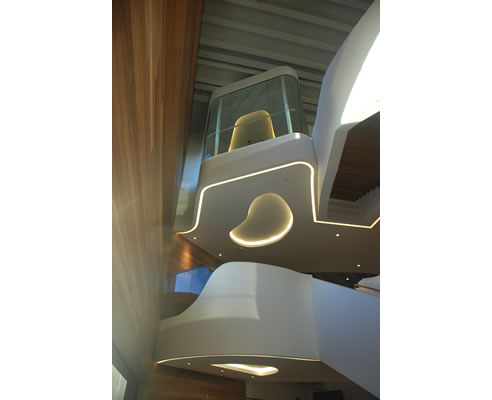 BCG GOES QUIETLY
Bent and Curved Glass Pty Ltd curved acoustic performance glazing combines form and function for the dynamic new GPT Group head office fitout designed by Woods Bagot.
The architects proposal required the removal of existing floor structure through levels 50,51 and 52 of the MLC Centre Building in Sydney to create an atrium void which becomes the connecting core of the scheme.
One of the challenges was to maintain the required acoustic privacy for the various meeting rooms located off and within this common use zone.
BCG provided a glazing solution that not only achieved the desired performance but the dramatic curves created are a feature of the design used to enhance and soften the spatial flow critical to the architects vision for the project.
Glass was the ideal material to provide shared light and views within the space and also outwards to the city skyline beyond while defining the functional separation of areas.
A combination of tight radius and more generous flowing curves have been produced by BCG in laminated curved and flat glass incorporating an acoustic rated interlayer to achieve the specified sound reduction levels.
The 3 level atrium is the focal point of the fitout. The considered detailing employed by Woods Bagot utilises a restrained palette of colours and materials combined with feature recessed strip lighting allowing the sculptural forms to be fully expressed creating an enlivened environment which connects the GPT staff and client community together through this multi level fitout.
The completed project lives up to the GPT Group aspiration to ".....create and sustain environments that enrich peoples lives" In the properties that the group owns, manages and develops throughout Australia."