Subway Tile Contemporary Styles from ALLOY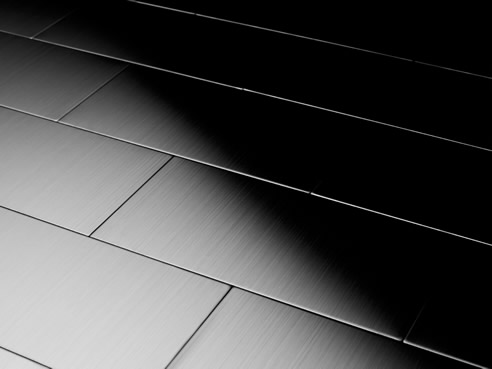 ALLOY Takes the Subway Tile Contemporary.

This May, Australian metal tile designer and manufacturer, ALLOY, releases the metal Subway tile bringing a sleek, industrial sensibility to the early 20th Century icon. The original rectangular 3x6 inch, 'hygienic white', ceramic tile was first used by American Arts and Crafts movement artists Heins and LaFarage in 1904 to enhance the walls of the New York subway system. Subway tiles have a long history in public places and are now popular particularly in contemporary bars and restaurants for their ability to evoke big-city turn of the century charm. ALLOY brings the Subway tile squarely into the 21st Century in a striking array of solid metal finishes. Immaculately designed with finely rounded edges and crafted from a single sheet of the highest quality 1.6mm thick metal, the Subway tile is available in all of ALLOY's high quality metals and finishes including Copper, Stainless Steel (Brushed finish, Mirror Polished finish, Matte finish), Raw steel, Brass and Titanium (Titanium Gold, Titanium Amber, Titanium Smoke).


Designed to create an unsurpassed metal tile finish to last a lifetime, ALLOY tiles will not dent, crack or de-laminate. Grouted or un-grouted, Subway tiles are unique, hygienic and easy to maintain providing a sleek, unforgettable finish for residential or commercial interiors and exteriors including kitchen splash backs, feature walls or bathrooms. The first company to conceptualise and produce solid stainless steel, face-mounted mosaic tiles in 1998, ALLOY has become internationally recognised for its innovative, highly distinctive range in a large variety of sleek finishes and sizes, specified by leading architects and designers around the world. The ALLOY Subway tile is available through www.alloydesign.com.au


02 9565 2422
Fovo Studios, 7/151 Foveaux Street, Surry Hills NSW 2010