The Evolution of Wood Flooring is Here from Antique Floors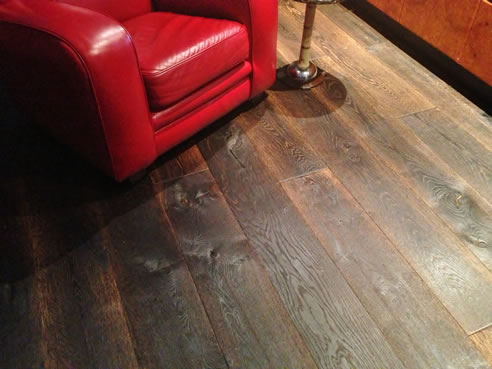 True artisans can create subtle variations in hue by treating the wood with a range of finishes such as fuming, double smoking, roasting or even application of a pre-colour prior to sealing with European oils that soak into the wood.

In days gone by, architects and interior designers were advised to select a timber specie first then match the colour of other finishes around the flooring. Now, the finite range of Australian species in a limited range of creams and reds is no longer the limiting factor in the design. You can walk through the showroom and select a colour range from light to mid to dark browns. You can select browns with a hint of chiraz or walnut. You can work with European oak and have the soft grain lightly wire brushed to give depth to the finish or have it heavily brushed to create a weathered antique look. To amaze you even more, there is an opportunity to select a black undertone... perhaps you would prefer white or antique white undertones. These will subtly highlight the grain of the timber and then the process can be finished with European natural oil or pigmented oil much like a master chef drizzles golden olive oil over your pizza just as it comes out of the oven to bring out the fullness of flavour. To see these variations, the possibilities, the hues and fine distinction between red-brown and heritage-brown for example, you must pop in to see John and his team of dedicated artisans. You bring the macarons from Adriano Zumbo (just around the corner) and they will provide coffee and the eye opening experience of wood flooring like never seen before. Most flooring contractors barely know of the existence of wide boards the size available at Antique Floors let alone the recycled railway sleepers complete with bolt heads and inlays to inspire. In this showroom you can see, touch, smell and feel the depth and warmth in each floor. On one wall there are oak floorboards finished in no less than six hues of grey showcasing the ability to create a patina and colour scheme that will please the eye and link with the fittings and furniture your architect or interior designer has chosen. John's masterpieces emanate in part or in full from the workshop 'down below' - with pride and joy, he cuts, sands and oils his timber, each piece being encouraged to bring forth its own distinctive identity and character. Here he shows me the knots in the wood and describes how in recent years, these imperfections were shunned - to some they are treasured marks of the history of that tree - it grew, it had branches, the growth rings tell the story of time and the sawmillers choice of cut. There will always be recognition of the natural beauty these boards reveal. I walk out of that old building, the sun is warm and I enjoy the feeling deep down which tells me I just met a true craftsman who loves to design and create beautiful works in wood and leave a little piece of history in my heart and my home.