Fast Action Fold Up Doors from DMF International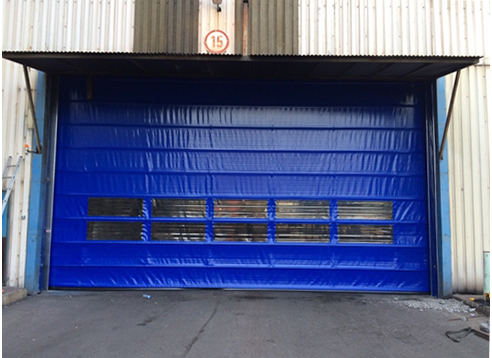 DMF FAST ACTION FOLD UP DOORS
High speed roll doors are a very popular door type to secure and seal secure large openings in logistics, warehousing, mining, processing and production. For climate control applications, the common panel design for roll doors is a flexible PVC structure that rolls itself at the top. However, when openings are very wide, exceeding 6m, then rolling PVC doors can be problematic.
DMF can now supply an alternative solution for large openings over 10m in width. The High Speed Fold Up Door is new to the DMF range, presenting a new door type to consider for larger openings options, and at a surprisingly affordable price.
The high speed fold up doors open and close in a way similar to a Roman Blind using a vertical pack away operation. A reinforced steel rail that is designed to increase wind pressure capacity, is built into the panel resulting in a robust system. Door speeds are about 1.0m/sec, and the power supply can be single ph invertor control, or 3ph powered.
The structure is powdercoated or galvanised and our standard fabric is heavy duty PVC with polyester reinforcement having a tear resistance of 70 N/5cm. A variety of colours is also available.