Bitumen Alternative TurfPave XD from KHD Landscape Engineering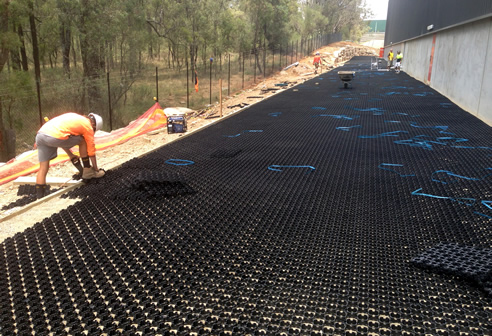 TurfPave XD - An Alternative to Bitumen
Would you like to find an alternative to bitumen for areas with modest traffic, for example office car parks, overflow parking or access roads?
TurfPave offers a great alternative to bitumen and this easy to install system has a number of benefits over using a bitumen surface in your landscaping.
Unlike bitumen, TurfPave is permeable and aesthetically pleasing and provides a durable, easily trafficable surface for vehicles. Using TurfPave allows you to maintain soft landscapes that would otherwise be lost, and relieve pressure on stormwater systems.
TurfPave can be used equally well with gravel or sandy soil for turf. It works by providing an interlocking, high strength plastic grass paver support, which can then be filled with soil for turf, or with gravel. The porous design allows rainwater to penetrate into the ground, reducing the level of surface runoff you get with bitumen.
Hardwearing, as well as visually appealing, TurfPave protects grass roots from compaction while being capable of supporting the loads imposed by pedestrians and large vehicles.