Complement Interiors with Artwork from Soho Galleries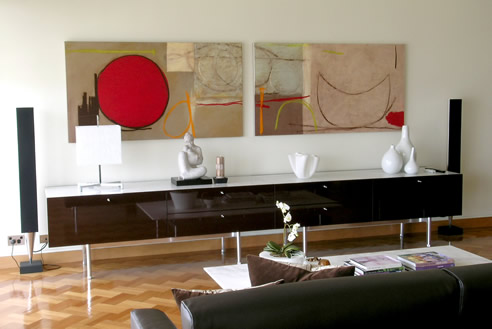 Original Artwork adds colour to your home and inspiration to your life!
A great example of how introducing a bold colour into a space can really add something while complementing its surroundings and not overpowering any of the all ready present attributes. These commissioned acrylic on canvas painting's by artist CB really brings the room to life and works great with the surrounding decor. Note how each colour promotes and supports all other colours present.
SOHO Galleries has over 20 years of exhibition history to be offer a board selection of artwork for your home or office.
Offering a valuable consultation service for advise on size and style that may best suit the environment in question, given the brief by the client or designer. In addition you can then trial particular works in your home/office, with no obligation, to ensure the right choice (conditions apply)
Or come into the gallery to select work from our range of painters and sculptors displayed over three floors of stockrooms.
Alternatively search the site www.sohogalleries.net to preview the work before coming in to see it in the flesh. If you're out of town or interstate we offer local, national and international freight services by dedicated art couriers, to delivery your artwork to your door.
Exhibitions in the gallery are held on the first Saturday of each month and offer the range of artwork that inspires, stimulates and begs the question.... where can I fit this piece of art in my life...?