Add Style with Wrought Iron Fencing by Budget Wrought Iron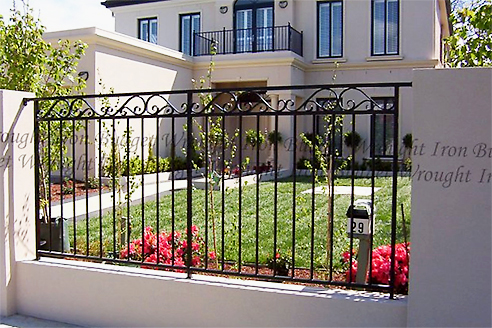 If you're looking for bespoke architectural metalwork - look no further than Budget Wrought Iron for beautiful, custom, worked iron façades! Whether you've embarked on a restoration project or are looking to add finishing touches to a new home, contact us to discuss your project's needs.
Wrought iron fencing, whether commercial or residential, enables premises to truly stand out from the crowd with class and sophistication. As metalwork is tailor made for each application, you can rest assured your wrought iron fence solution will be truly unique.
Unsure of the look or feel you require to compliment your home? Select from one of our many predefined designs or trust us to create a stunning solution for you. No matter your choice, we guarantee Budget Wrought Iron will add value to your home with superb, quality, hand-crafted metalwork.
Call us today for a free quote or visit us at our factory to view our decorative wrought iron and custom ironworks.