Squareline Modified Commercial Washroom Cubicles by Flush Partitions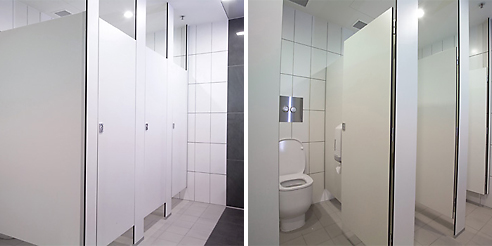 Squareline Modified builds on our most popular washroom cubicle system, but with a twist. While the standard Squareline system features frontals mounted on an aluminium leg, and overhead bracing, the Squareline Modified has a more seamless appearance with frontals extending from floor to ceiling. This gives an appearance of a full height cubicle system.
Squareline Modified can be manufactured using 13mm multi-purpose compact laminate board, or 18mm or 33mm pre-laminated board.
Sizes and configurations
Typical standard toilet cubicle size is 900mm wide x 1500mm deep overall. For showers, this depth can be extended to 1800mm overall with the inclusion of a wing wall and shower seat.
The Squareline Modified can also be manufactured to suit non-standard sizes, in accordance with design or building requirements.