WIFI Video Intercom Door Phone from Consolidated Security Merchants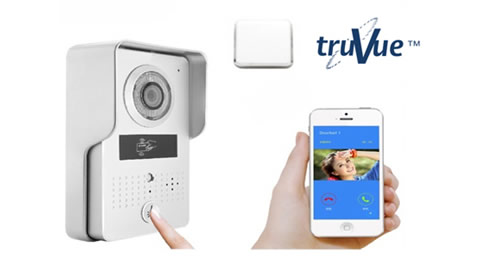 TruVue WIFI Video Intercom Door Phone From CSM
Anytime and Anywhere
The TruVue WIFI Door Phone lets you answer the front door or gate from your Smart Phone and allows you to hear, talk to and see your visitor from an Android or IOS mobile device, using WIFI or 3G/4G, anywhere around the world.
A lock release output allows you to remotely release a door or gate from your Smart Phone App.
The TruVue WIFI Video Door Phone includes a Proximity Card Reader allowing staff, residents and home owners the ability to unlock the door or gate on arrival, by presenting a Card or Keyfob to the WIFI Door Phone.
Also Included in the Kit is a battery operated wireless Door Bell Chime unit which sounds every time the Door Phone Call Button is pressed. Up to 38 different chimes can be selected.
Never miss a call at your door or gate, from inside your home, even if your Smart Phone is not near you or turned off.
TruVue WIFI Video Door Phone features:
Free Smart Phone App for both Android and IOS
Multiple WIFI Door Phones may be added to one APP
Multiple Users may be added to operate a single WIFI Door Phone
Connects to the Home or Office WIFI Network and provides both WIFI & 3G/4G operation
May use either WIFI or hard wired LAN connection to the Home Router
Lock release Output
Inbuilt Proximity Card Reader to operate the Lock release on presentation of a Card or Keyfob.
Wireless Battery Operated Bell Chime unit also included.
Tamper and Motion Detection Alarms can be sent to the mobile device App
Ability to automatically and manually capture Photo Snapshots and Video footage
View WIFI Video Door Phone Live Video at any time, on demand
Construction: Aluminium Body, Plastic Rain Shield