Underfloor Heating Solution from Hunt Heating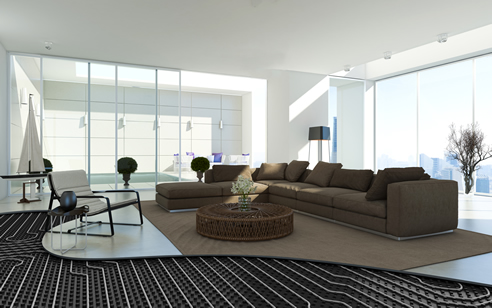 The feeling of wellbeing is something we shouldn't take for granted. Feeling warm and comfortable in our homes helps maintain the feeling of well-being and promotes good health. There are numerous ways to experience warmth but only a few that guarantee real comfort.
Benefit from our expertise in underfloor heating system solutions. Radiant energy emitted by the floor is partly reflected by each surface and partly absorbed. Where it is absorbed, that surface becomes a secondary emitter. After a while, all surfaces become secondary emitters. Furnishings themselves radiate energy and the room becomes evenly and uniformly warmed. The energy reaches into every corner of the room - no cold spot, no hot ceilings and no cold feet.
With so many options available, including retrofitting an existing home, underfloor heating is the perfect solution.
Check out our new range of underfloor heating pipes and fittings or contact our Customer Service Team on 1300 00 1800 for more information.