Dual Roller Blind One Chain from Solis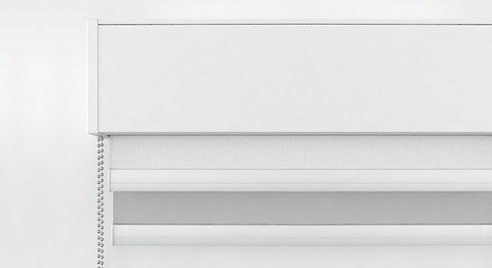 SOLIS DUAL ONE CHAIN - One chain to control two blinds
SOLIS are pleased to announce a new roller blind system in our continuing expansion of our window furnishing range.
The SOLIS Dual One Chain
The innovative dual roller blind system, offers an aesthetically pleasing and technologically advanced solution for manually operated rollers blinds. Two blinds are controlled with one single chain or alternatively via the weight bar for a chain-free solution. With one simple touch, blinds can be raised to your preferred pre-set location. The Semi-Automatic functionality, performing an auto rise and manual lowering, is complemented by top and bottom limit settings for a refined user experience.
KEY FEATURES
1) One single chain to control two blinds
Dual blinds are becoming increasingly popular as they offer both a light filtering and block out solution for improved light and temperature management in the home. Current dual blinds on the market suffer from having two chains to control the two blinds. This results in tangled chains or chains at opposing ends of the blind, and frustrated end users. This design solves this by using one chain to control both blinds. Front segment of the chain controls the front blind and the rear chain controls the rear blind.