Curved Glass for Apartment Facade from Bent & Curved Glass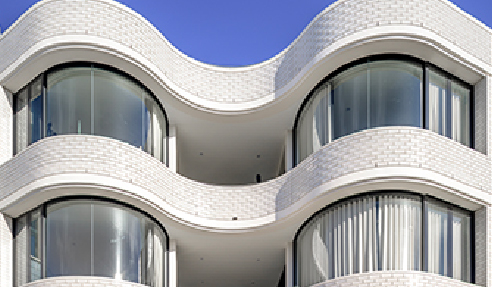 In a recent apartment development Tzannes Architects have sought a contemporary interpretation of the prevailing streetscape language of the Campbell Parade conservation area along the Bondi Beach promenade. Their elegant facade solution folds the street wall to form both bays and balconies.
Curved glass proved to be an essential element in creating the undulating flow of their facade design while maintaining an uninterrupted view of what is arguably Australia's most famous beach vista. The architects desire to minimise the number of silicon joints resulted in the glass being manufactured with a complex curved profile incorporating flat tangents at each end.
The challenge for Bent and Curved Glass Pty Ltd (BCG) was to achieve optical quality and dimensional accuracy at the highest level. The flowing facade layout was repeated with the frameless curved toughened glass balustrading to the penthouse terrace above.
BCG worked closely with the architects, Developer, Builder and Installation Contractor to not only provide the glazing design solutions but to ensure the required aesthetics would be achieved within the very tight budget constraints.