Pre-Plumbed Stainless Steel Trough from Britex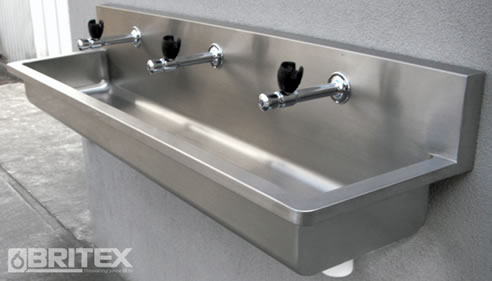 BRITEX PWD Pre-Plumbed Troughs
These sturdy stainless steel troughs come complete with your choice of tapware pre-installed for your convenience, fully WELS and WaterMark certified. The PWD Pre-Plumbed Trough can be utilized for drinking or hand wash purposes, even a combination of both.
Water efficient drink bubblers feature bacteria and sunlight resistant rubber compound mouthpieces for additional safety in the event a user is bumped whilst drinking. Alternatively, Hand Wash Timed Flow taps are set to run for 6 seconds only per activation to prevent water wastage and vandalism.
Our troughs feature fully welded, rounded corners both internally and externally ensuring easy cleaning and provide added safety in high traffic areas. A 50mm hob in the rear splashback allows for the pre-installed plumbing to be concealed and is resistant to vandalism, ideal for educational facilities.
For more info on our range of troughs visit: http://bit.ly/2vEsnaK