Drainage Grates for Public Swimming Pools from Hydro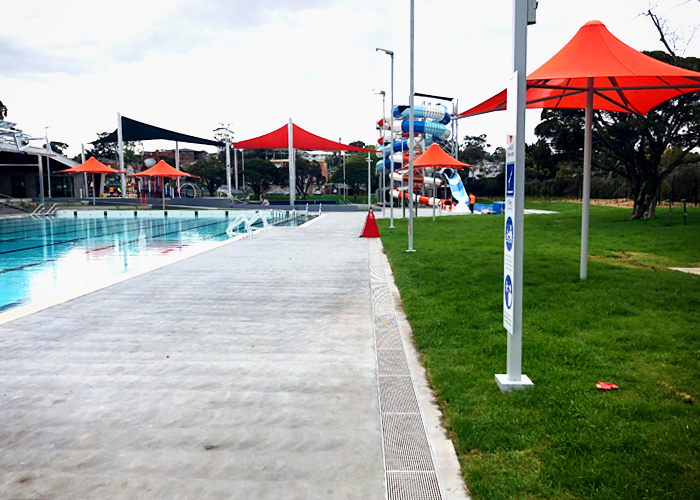 Hydro Construction Products is Australia's market leader in the manufacture and supply of safe, innovative stainless steel drainage grates. Based on a sophisticated manufacturing process and utilising the finest austenitic stainless steel grades 304 & 316, these grates boast high-quality and technical excellence. They provide versatility, functionality, and other benefits that are not readily matched by their counterparts on the market. These stainless steel drainage grates are ideal for almost any commercial wet area application such as public swimming pools or water features.
Stainless Steel Drainage Grates for Swimming Centres
For the $27.3 million redevelopment of Oak Park Sports & Aquatic Centre, project developers Hutchinson Builders employed Hydro Construction Products for the supply of their high-quality, uncompromising pool grating solutions. They installed 500 metres of their supreme polymer concrete drainage channels, which are all covered by an anti-slip stainless steel drainage grate.
Durable, corrosion-, and slip-resistant, these stainless steel drainage grates created a safe and comfortable walkway around the pools, even with bare feet. As for their visual appeal, Hydro worked hand-in-hand with the developers to successfully deliver the aesthetic brief expected of the modern swimming centre. The superior hygienic qualities of Hydro's stainless steel drainage grates also exceeded the durability and anti-corrosive requirements of the project.
If you are planning to incorporate these safe stainless steel drainage grates in your current or future swimming pool or water feature project, get in touch with Hydro Construction Products by heading over to www.hydrocp.com.au today.