Surface Drainage Grid Pavers from Sherwood Enterprises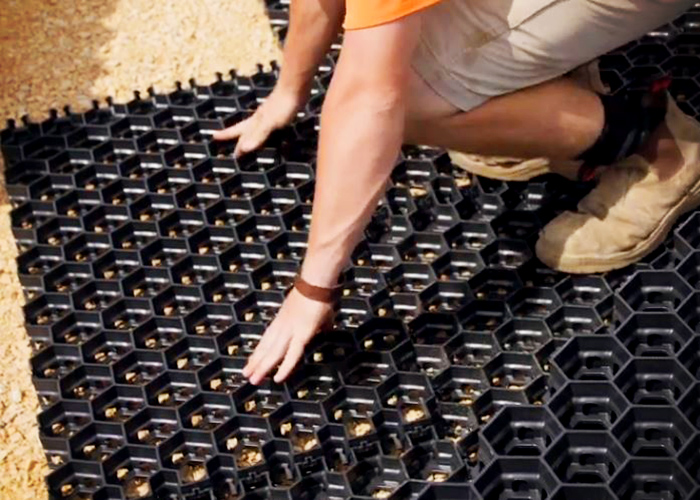 At Sherwood Enterprises we are delighted to advise we have back in stock our Buckaroo Barn Range 4009. These are interlocking, stabilising, drainage grid pavers for ground surfaces. Say NO to unhealthy mud by installing Range 4009 today.
Features
Manufactured using high-impact copolymer polypropylene.
Pavers are 1000 x 500 x 42mm - two pavers will cover 1m². Weight per paver is just 2.7kg.
Filled paver weight bearing 1200t/m². Unfilled 300t/m².
100% recyclable, sustainable, and non-toxic to humans, animals, or plants.
Inert and non-reactive to solvents such as oils, chemicals, or water.
Water permeability 99.7%.
Interlocking quick installation - just click together.

Suggested applications include stable stalls, breezeways, horse shelters, wash bays, out/day or livestock holding yards, shed floors, arenas, water troughs, and feed bin surrounds. It is even used in the horse racing industry for track infields, parade rings, and overflow.
As a surface solution, Range 4009 is ideal for muddy gate entrances, fence lines, entrances & exits to stables, driveways, pathways, laneways, tracks, and feedlots. Commercially it is also great for car parks, council parkland areas, slope retention/erosion prevention, plus helicopter pads.
Before we go - please note the website, www.buckaroobarn.com.au! As we also have cushion base, hollow, interlocking wash bay mats, Range 4004 plus 914 x 914 x 16mm rubber, Range 4016, and pine horse bedding, Range 4017. For more information, please visit www.buckaroobarn.com.au today.