Environmentally friendly floor heating by Comfort Heat Australia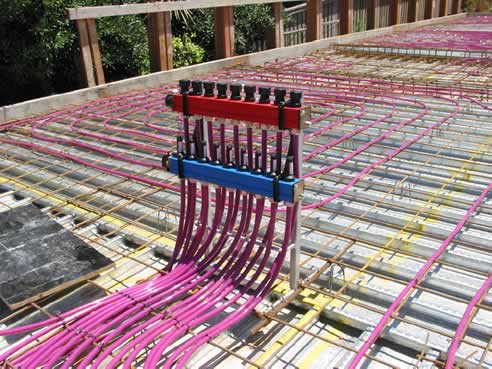 Comfort Heat Australia has branched into the Hydronic Floor Heating market. While this floor heating solution is only cost effective for large floor areas, it provides an option to the traditional electric in-slab and in-screed floor heating with lower running costs and heating sources which can be more environmentally friendly.
Hydronic floor heating works by pumping heated water through pipes laid in a concrete slab or in a 50mm screed. This means the water can be heated by a selection of heat sources, such as gas or solar, instead of electricity. Comfort Heat has sourced modular manifolds and world class pumps from Italy with piping from Rehau.
There has been immense interest in the option of hydronic heating. Under floor heating is a necessary comfort for new developments, however large areas of electric heating become expensive to run and the use of electricity is a burden for the environmental footprint. By being able to utilise the alternative energy sources such as solar and gas, the running costs are diminished without the loss of comfort. An alternative is also now available in rural areas where gas was not available with the ability of solar power to heat the water.
Comfort Heat Australia is excited about the opportunities now available for the provision of underfloor heating to the Australian housing market. Information and quotations can be obtained by contacting Comfort Heat Australia on 130013WARM or visiting their website at www.comfortheat.com.au.