Kismet and Karma Titanium tiles from ALLOY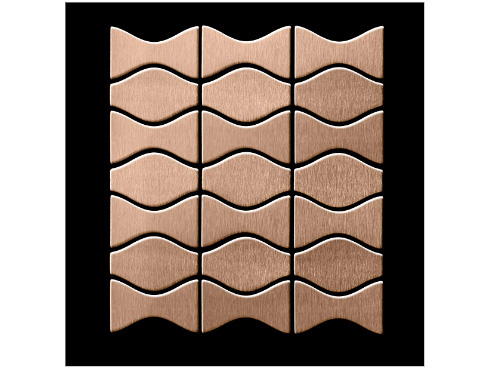 TILE FEATURES
Designed by Karim Rashid + manufactured by ALLOY to create a highly contemporary look with an unsurpassed finish
An ALLOY innovation. Titanium-plated tiles are exclusive to ALLOY' long lasting and hardwearing and punched from an individual sheet of 1.6mm solid, high quality titanium-plated stainless steel.
No backing mesh, plastic inserts or metal look-alike 'metallic' coatings. ALLOY titanium-plated tiles won't dent' crack or de-laminate.
Face mounted for better protection of the titanium tile face during installation.
Made in Australia. Consistent high quality.
To ensure the perfect installation we've developed a range of finishing pieces, just contact us for details.
To ensure you get the exact finish you're looking for, we suggest ordering a tile sample.
SAMPLES: available to order online for AUD $5 each. This is refundable on your final ALLOY tile purchase. Each sample card is 100 x 100 mm and holds 1 x Kismet + 1 x Karma tile and all tile specifications.
When you're ready to order your ALLOY titanium tiles and finishing pieces' just contact us.
02 9565 2422
Alexandria, NSW, 2015