Long Term Concrete Repair Solutions from Poly-Tech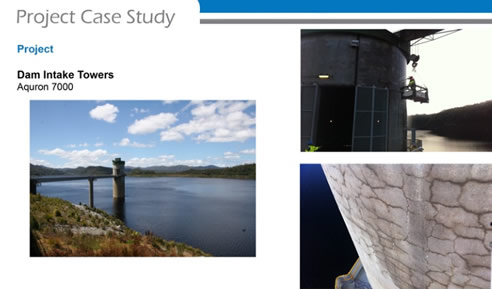 Project Case Study: Dam Intake Towers

Expansive forces within a concrete matrix often leads to concrete degradation with cracking patterns usually edident at the surface of concrete structures. This dam intake tower was showing signs of deterioration due to chemical reactions between and with the cement matrix, aggregate and moisture forming an expansive gel (ASR). Poly-Tech Industrial services now has a long term solution to mitigate these issues using the new range of Aquron concrete repair and protection systems. The Aquron penetrating hydrogel has been selected in this instance for it's ability to limit moisture ingress into the concrete, effectively removing one of the vectors (moisture) from the expansive ASR reaction. Alkali (Portland cement), silica (reactive quartz aggregate) and moisture (water) equals the production of expansive ASR gel leading to concrete cracking. Additionally Aquron readily penetrates Portland cement concrete when applied to it's surface, reducing or eliminating soluable chlorides as it does so without effecting the insoluable chloride or reducing cement paste pH value, to depths of at least 100mm depending on the porosity/permeability and density of the concrete being treated. The intake crane was mobilised and a man cage placed in position before preperation and application could commence. Our preperation method of water blasting ensured the concrete surface was clean of any contaminates that would adversely affect the penetration of the specified Aquron 7000 system. Application of Aquron 7000 system was then applied to internal and external walls using a low pressure (200psi) spray system as per the manufacturer's specification. Geofabric was used for containment of any loose particles or contaminates released during the cleaning application. So for long term solutions to concrete protection using the Aquron range of products contact Poly-Tech Industrial services.