Fire Resistant Board SYSTEMPANEL™ from Promat Australia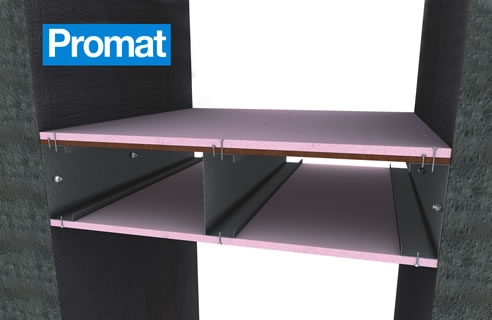 Promat SYSTEMPANEL™ Quick Solutions for
Fire Resistant Party Walls, Ceiling and Floors
Are you looking for a lightweight, cost effective, easy to install alternative to a concrete slab or AAC panel for your horizontal fire rated compartmentation issues? Then Promat's new SYSTEMPANEL™ load bearing floor system may be the answer.
The system offers a loadbearing, two way fire rated system that can achieve FRL's of up to 120/120/120. With the incorporation of the well renowned PROMATECT®100 board for the ceiling side, it can be finished to a high standard without the application of additional boards.
In addition to the floor system the Promat SYSTEMPANEL™ can also be used in a party wall situation to cover your vertical compartmentation requirements.
The system will achieve up to 60/60/60 ratings for heights up to 15m.
For further information please click on this link http://www.promat-ap.com/pdf/syp_systempanel.pdf