Economical Outdoor Heating with Heatray TRH from Celmec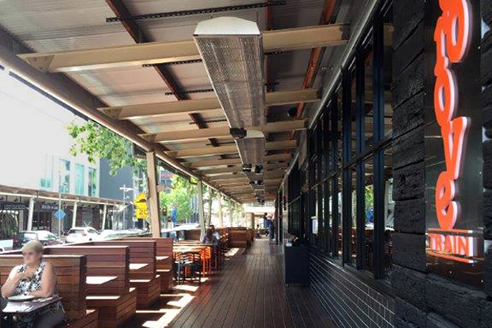 Celmec has recently completed a number of installations in Westfield Knox, Victoria, as a part of the refurbishments and upgrades to the Ozone precinct. The Ozone Precinct is a large, open-air section of Westfield that hosts a variety of restaurants and cafes.
The establishments in the Ozone precinct have had Celmec's Heatray Tube Radiant Heaters (TRH) installed in the outdoor and indoor dining areas. These units provide warm radiant heat, making the space more usable by patrons during the cold winter months.
Recent regulatory changes have seen the mounting height of tube radiant heaters move up to 3500mm. However, Celmec's stringent research and development has lead to the creation of protective mesh guards for Heatray TRH, allowing the units to be mounted well below the regulation height. By mounting the Heatray TRH lower the units are able to make more efficient use of gas and provide more intense radiant heat.
Though primarily intended for industrial applications, Celmec's Heatray TRH have been gaining popularity in hospitality and commercial settings due to their ability to heat large spaces economically, and for their aesthetic appeal.
For more information on Celmec's Heatray TRH, or any other Heatray products please contact Celmec International.