Latham Stair Nosing: Available in Victoria through Pasco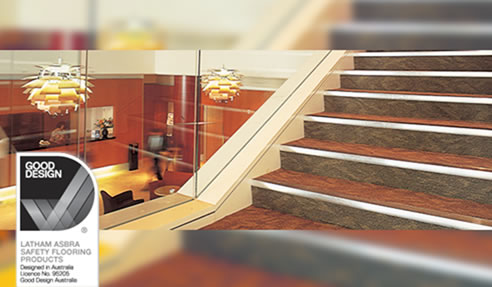 Stair nosings are used to ensure public safety. They are commonly used on constructed surfaces like stairs, platforms, walkways and ramps to prevent the risk of pedestrian slips and falls. Stair nosings are a crucial part of Workplace Health and Safety (WHS), also known as Occupational Health and Safety (OH&S), the governing body in charge of assessing and mitigating risks that could harm people in the workplace. As producers of premium architectural stair and flooring solutions for 51 years, Latham design engineers and manufacturers understand the value that stair nosings contribute to any property and have been recognised by the Australian Design Award for their excellence in research and continuous product development.
Business owners have a legal responsibility to provide a safe environment. Stair nosings reduce any possibilities of litigations caused by slip or fall accidents.
Safety is just one of the key reasons for the high demand of stair nosings. Stair nosings protect stair edging from damage caused by high movement or heavy foot traffic. Latham stair-nosing are used in a variety of different applications from sports fields, convention and shopping centres, hospitals, and office buildings, residential and commercial complexes.
For maximum pedestrian safety and to reduce the number of accidents caused by falling from the stairs or missing a step - the Building Code of Australia specifies for stair treads to have a slip-resistant finish, a non-skid strip or insert and treatment near the edge of the nosing. It enhances the visibility of stair edges, which is of particular importance to the elderly, individuals with limited mobility and for children.
Since stair nosings give an extra landing space for people to walk up and down the staircase, they offer comfort and assurance to pedestrians moving up or down a staircase.