Soil Stabilisation Solution for Playhouse Apartments from KHD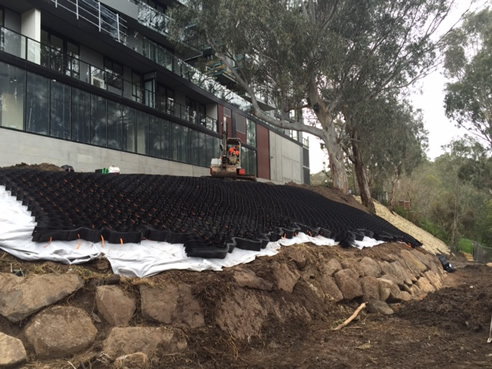 Playhouse Apartments
The Playhouse Apartments is a new residential complex located in Abbotsford in inner city Melbourne.
The building is also only moments to Victoria Gardens Shopping Centre, Studley Park Boathouse and trams to the city. The building also fronts directly on to the Yarra River providing exceptional water views and direct access to the parkland, walking and cycling tracks that flank the river.
The project features an intensive Green Roof with planter boxes that were lined with geofabric and drainage cell. The Palms, which were planted into the boxes, were craned directly onto site.
To secure the landscaped area along the bank of the Yarra River, 270 cubic metres of new soil was installed which was stabilised by VersiWeb.