Stone Fixing and Supports from KHD Landscape Engineering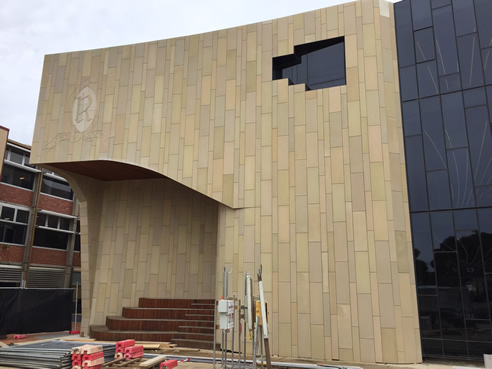 Ruyton Girls' School - Junior School Redevelopment
Ruyton Girls' School is located in the heart of Kew, set in lush, landscaped gardens. Ruyton has a number of learning centres and the redevelopment of the Junior School buildings complements and enhances a number of existing programs.
One of the aspects of the development, which will have a long and lasting association with the school and its students, is a new wall for one the Junior School buildings which features pre-case coloured concrete panels. The panels are 50mm and were installed in three sizes, 1200 x 400, 1200 x 200 and 1200 x 100.
The panels were secured using a number of mechanical fixings including Stone Clip and the T Pin which is shown below. Internal cladding was also fixed using the same mechanism.