Perspex® Frost Feature Lighting Panels from Allplastics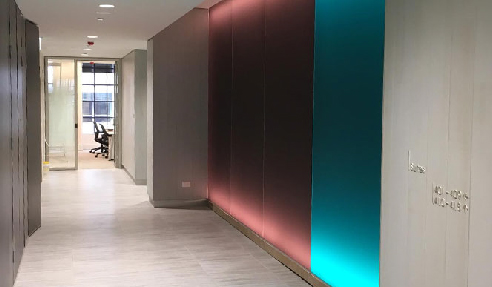 PERSPEX Frost Panels
165 Phillip St, Sydney
The selection of colours and its combination with natural as well as commercial lighting can transform a project from average to a superior level.
Allplastics supplied an interesting selection of PERSPEX Frost and PLEXIGLAS Satinice sheets in 10mm thick for the 165 Philip Street project in Sydney's CBD Richard Crookes Construction.
The challenging project involved the refurbishment of an existing commercial building.
Works included the alterations and additions to the commercial building, including facade restoration works to Philip Street and Elizabeth Street frontages, internal building upgrades, fitout of a new office, provision of new retail space, and restaurants to be fitted out by future tenants.
The selection of colours was determined by Smart Design Studio, including Glacier Green Frost, Slate Grey, Arctic Blue, and PLEXIGLAS Satinice Pine.
Each level of the building had its unique combination of colours with stunning results.
The PERSPEX FROST and PLEXIGLAS Satinice were chosen due to other matt surface texture which minimises the risk of finger-marks and its 10-year warranty. It saved the project managers the extra work to film application on glass or clear Acrylic.
Mr Marko Neskoski, Site Manager of the project commented, "we are very happy with the achieved outcome and thank the Allplastics team for their cooperation in delivering a bespoke result with challenging deadlines."