Inner City Green Wall from KHD Landscape Engineering Solutions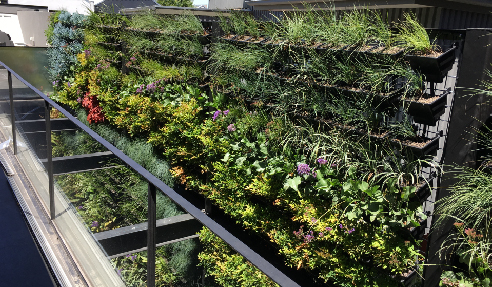 Lush Green Wall in Inner-City Melbourne.
The owners of this property were moving from the leafy suburbs to inner city Melbourne and wanted to ensure that their new home had an extensive green element to it, without the maintenance of a large garden.
With that in mind, as part of major renovation works, iBlitz were briefed to create an extensive green wall on a north facing boundary wall of the property.
Being 5.5 metres high, the immediate challenge was height. The ongoing challenges were choosing a plant palette for the aspect of the wall and the access points for maintenance.
The plant selection had to take into consideration that from October to March, the plants would be in full sun, however for the rest of the year would be shadowed by the building. We love the result.
All up, the green wall had 724 plants from a variety of growers, which included a mix of grasses, succulents and ferns. To reduce the overall cost of the project the VersiWall pots were hung on galvanised mesh which iBlitz fixed to the wall.
To extend the enjoyment of the wall a low voltage multicolour LED light system was installed to 'light up' the wall during nighttime, which provides a great show indeed.
Green Wall designer & installer: iBlitz.