Marshal Williams Contemporary Paintings at SOHO Galleries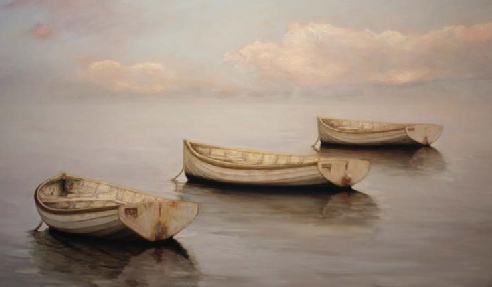 Marshall Williams - Towards the Clouds
Contemporary paintings and group sculpture.
Join us for celebration drinks on Saturday September 15th, 2-4 pm.
Marshall Williams in his latest series of large paintings continues his fascination with the still and glass-like surfaces which envelop the hulls floating quietly within their watery surrounds.
The boats and the reflected imagery play across the surface in a symmetrical and frontal expanse. Subsumed in soft colour and glowing with luminous light, the works exhibit a mood of silent calm.
Drifting and stationary, often as single hull or paired in close relationship to each other with a floating expanse of clouds above. Soft landscapes which echo the curve of the land now also make an appearance in this show. The mood and colour as much the subject of the work, as the illusion of the image.
Soho Galleries Sydney, Mezzanine Art Space, 105/197 Young Street Waterloo, 2017
Exhibition catalogue available on application. Exhibition dates September 1-October 13.