Rubber Gym Floor Protection from Sherwood Enterprises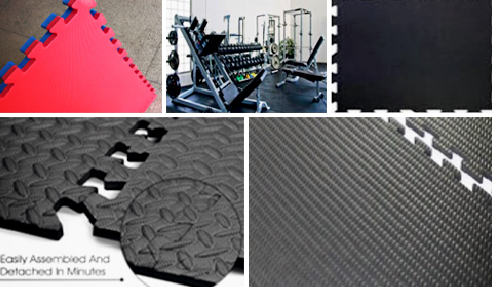 Gym Fitness Protection for Floors & Yourself Whilst Training!
Sherwood Enterprises, the 100% Australian owned & family operated flooring distributor is marketing online direct to you! We have been supplying high-quality Recycled Rubber Flexible Gym Fitness Flooring direct since 2004 with no middleman; Direct from the factory.
Sherprise resilient, flexible, eco-friendly certified meter x meter x 15mm black recycled rubber gym fitness tiles supplied throughout Australia have stood the test of time with commercial gym clients only now replacing the gym tiles they purchased in 2004.
Sherprise's plain black, fine granule, 1st-grade gym fitness tiles with English UK polyurethane (that's polymerically bound), has no odour and is compliant to Australian Fire Certification with impact and acoustic sound properties.
We also have also re-introduced by request, and in-stock from end-September, DIY Interlock Black Gym Fitness Tiles 495 x 495 x 10mm thick.
We also have arriving in late October/early November, as our last delivery sold out, Eva closed cell memory meter x meter x 40mm thick Reversible Blue/Red Fitness Tiles which are completely waterproof providing a safe shock absorbing training surface suited to Martial Arts, Grappling, Wrestling Mats, Judo Mats, MMA Mats, Taekwondo, Ju-Jitsu, Karate, Kick Boxing, and for School Gyms, Children's Kindergartens & Child Care Facilities.
We recently added to our Gym Fitness ranges and introduced our Interlocking Eva Black Protection Floor Mats 61cm x 61cm x 12mm thick suited for Yoga, Pilates, Gym Exercise, Under Exercise Bikes & Treadmills or for Schools Gyms to cushion & protect knees or elbows when doing floor exercises like push-ups, stretching, sit-ups, and popular for Tents & Caravan Annex Flooring.
Arrives late October/early November - so book today as these mats are very popular & at a low affordable price!
We also have our Interlock Eva Rubber Blend Horse mats meter x meter x 24mm thick for clients that require a firmer Gym Surface Mat or for Cross-Fit usage 1830 x 1220 x 34mm thick Eva Rubber Blend Mats.
Contact Sherwood Enterprises or visit www.sherprise.com.au for more information.