Horse Stall Interlocking Matting - 4005 from Sherwood Enterprises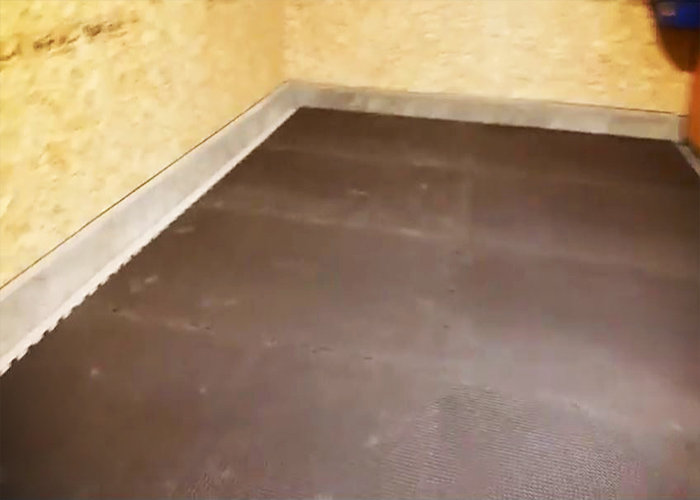 September 2021 - As shipping demand to Australia is extremely high at the moment and space is limited at present, Sherwood Enterprises are advising ahead of time that their 4005 Horse Stall Interlock Matting is on its way! Shipping is booked to arrive at the Port of Brisbane at the end September, so if you require matting, please contact us to be placed on the pre-order system (just remit 10% of the invoice and the balance once matting arrives).
The 4005 cushioned, interlocking horse mats are 1830 x 1220 x 34mm and in the colour black. The equine industry, and indeed our own clients, advise the advantages to their stabled horses' health on this cushioned system;
Therapeutic cushioning anti-fatigue matting supports the musculoskeletal body of the horse including legs, ligaments, muscles tendons, etc.
As the horse moves, the closed cell cushioning enables blood flow to the frog of the horse's foot.
Reduced build up of tissue fluid and inflamed joints - no stocking up or hock sores.
Innovative construction means the matting is not heavy but designed with horse stall usage in mind. So, the matting is calibrated at a density and hardness for an agistment paddock plus are lightweight, so no more heavy rubber mats.
They provide excellent insulation - better than many 100% rubber stall mats.
Importantly, 4005 horse stall mats are hygienic. The matting is sealed, non-porous, non-absorbing, and 100% impermeable to urine, bacteria growth, and moisture. No more smelly, toxic, unhealthy ammonia build up.
Easy installation and muck outs will be so much quicker. Another feature that benefits stabled horses is their safe, impact resistant function as a stall flooring.
A good bedding adds to the function of the 4005 cushioned stall matting. We suggest an initial set up of 6-8 bags per 4 x 4 stable of mountain pine fresh bedding. Then, in a normal stall situation, 1 bag thereafter - just take out the manure, remove the wet spots, and backfill.
We stock 4017 Pine Pellet bedding from Australia's Snowy Mountain ranges which comes from a certified Government Forest Replanting Project. Please note, it's biodegradable for out day yards and garden beds. However, do not use waste on veggie beds as whilst the bedding is non-toxic the manure might contain unwanted chemicals.
For more information regarding 4005 horse stall interlocking matting or 4017 pine bedding, visit www.sherprise.com.au today.
0427 038 472
Unit 9/12 Daintree Drive Redland Bay, QLD, 4165