Juralco products feature at Woolworths distribution Centre at Erskine Park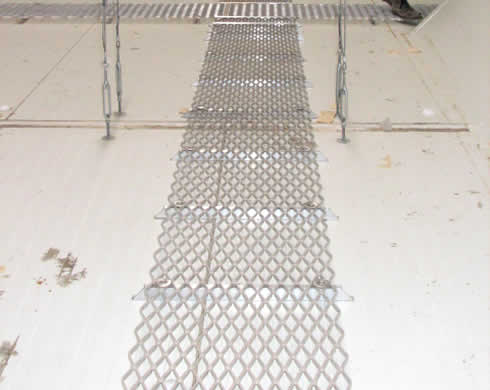 Woolworths Distribution Centre at Erskine Park in Sydney was a huge project for both Juralco and Roofsafe NSW. Apart from the 900 lineal metres of Walkmaster 201/600 walkway required for the project, a new system for fixing had to be devised that allowed fixing of the walkway to the top of massive cool rooms inside the distribution warehouses without piercing delicate cool room panels.
At intervals throughout the warehouse complex air-conditioning maintenance and control rooms are spread out to control the mammoth task of keeping this giant warehouse cool. To maintain the required levels of control, after services had to be devised that would not interfere with the system.
In consultation with 3M, Juralco brought together Roofsafe (A Juralco Authorized Installer) and Clint Gaving of GPA Industries to devise an application system and specification for a 3M double sided tape to fix the system to the cool room rooves.
Practical tests were carried out on site by dropping weighted bags attached to test sections of the Guardsafe Safety Handrail. Once Roofsafe was confident the double-sided tape was able to take the loads required for a roof walkway and safety handrail an application system was devised. The key to performance for a system such as this was perfect application. The materials were firstly treated and a specialized applicator used to roll the tap onto the cross-section supports for the walkway and handrail. The benefits of this type of application meant that much of the work could be completed in the factory in a controlled environment ensuring the highest quality fixing.
Collin Dengate of Roofsafe NSW said that pre-cutting and fixing the tape made for an extremely efficient install for the job as well as well as keeping the client happy with minimal on site fabrication and a fast productive installation. As a result of this ground-breaking installation Roofsafe and Juralco are set to install many more of this type of project through out Australia as Woolworths embark on an immense expansion programme.