The solid facts of solid construction with Untiex EPS lightweight insulation panels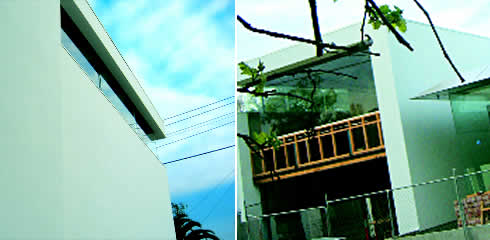 When confronted with this challenging renovation in Melbourne's south-east, designer Greg Gong knew one thing - he wanted a solid look. So he turned, not to masonry, but to Unitex EPS lightweight insulation panels.
The new extension incorporates a north-facing living room with 4.5m ceilings so insulation is paramount. The 40mm thick Unitex EPS panels used provide the insulation required while being easy to install and finish. And once the Unitex render and finish is applied, the walls appear strong and solid like a thick stone wall - a perfect contrast for the weightless floating roof over a decorative pool. "The render is important as it provides me the solidity I am after," states the designer.
The EPS substrate is lightweight and easy to install - especially at height. The panels have made this job run smoother and faster for the carpenter. While Mark Locke from Roark Plastering has used Unitex products on a number of projects and knows they are great to work with and provide a virtually maintenance-free exterior.
And of Greg Gong's experience? "It's the first time I've specified Unitex. I will certainly use it in the future." A very solid future, no doubt.
Unitex Granular Marble Profile
03 9768 4900 & 02 9838 0911
22 Park Drive, Dandenong, Vic, 3175